Page path:
Life in the water column of the Atacama trench - Blogpost 4 from RV SONNE, March 10, 2018
Life in the water column of the Atacama trench - Blogpost 4 from RV SONNE, March 10, 2018
On Board RV SONNE, Chile
24° 18.16 S, 071° 27.95 W
Saturday, March 10, 2018
On Friday, March 9, our colleagues from Millenium Institute of Oceanography (IMO) in Chile deployed their specially designed instrument called MOCNESS for fishing zooplankton. The net was towed by RV SONNE at a speed of less than 2 knots, which is almost the speed of a pedestrian.
MOCNESS stands for Multiple Opening-Closing Net and Environmental Sensing System. It's basic principle: six nets are set up one on top of each other attached to a rectangular steel frame with an opening of 10 square meters.
Once the frame has reached its target depth at 6000 meters, stabilized in its descent by a net with a large mesh size, the net is closed and the first plankton net is opened. This is when the actual plankton fishing starts. Then the winch tows the MOCNESS very slowly in a defined angle back upwards. At a predefined depth, the operator closes the net and simultaneously opens the next net. Finally, back at the surface one by one all six nets have collected small and big species from different water depths. The purpose is to screen, count and analyze plankton in different water layers.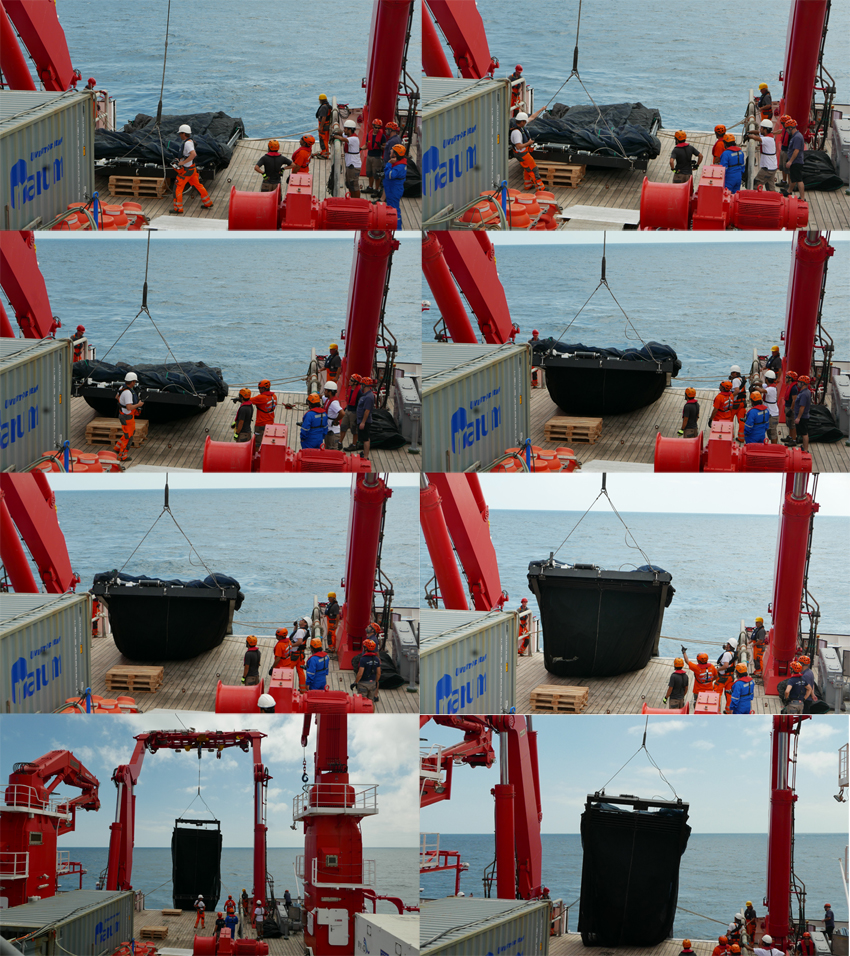 Principal investigator Ruben Escribano from IMO and his team are interested in variations in biodiversity in the Atacama Trench. "We are going after zooplankton, but also crustacaens (e.g. shrimps) and molluscs will end up in our traps", Escribano says. "When back on deck, the first thing we do is taking photographs of our catch and categorizing it. Then as soon as possible we store them at -80° C to keep the fragile cell structures intact."
The researchers have to be quite patient, as they will get their final results much later back on land in specialized laboratories.
Like reading a bar code, scientists can use DNA analysis to determine the species. Their metabolism determines how food is supplying the animal´s cells with energy. By screening a set of several enzymes´ activities and doing analysis of the amino acid and lipids the metabolism can be studied.
What you eat is what you are
The food sources of the different animals leave telltale records in every cell of their bodies. Experts can read these records like a book. Natural stable isotope ratios of 12C/13C and 14N/15N are perfect indicators for what the different species were living on.
The Chilean scientists belong to a small group of specialists, as only five groups worldwide are doing this kind of deep-sea research. Escribano explains: "This is the second time we are using our MOCNESS system. We definitely enjoy the spirit on this ship. I think this international team on board SONNE covers quite a range of scientific fields. Our joint efforts will help us to understand the last mysteries of this complex ecosystems of the deep-sea trenches."
Specific questions addressed during this cruise are:
What are the sedimentary processes providing food for the hadal community in the Atacama Trench?


How do abundance, diversity and community structure of microorganisms, meio- and macrofauna in the Atacama Trench differ from those in less productive trenches and nearby abyssal and shelf sites?


What are the general biogeochemical characteristics of the surface and deep sediment and water column in the eutrophic Atacama Trench?


Which mineralization pathways are responsible for organic matter breakdown in the eutrophic Atacama Trench?


How efficient are microbial communities operating at extreme hydrostatic pressures in mineralizing organic material as compared to their shallower counterparts? And to what extent do specialized, yet unknown extremophile microbial communities mediate these processes?
RV SONNE is a modern German research vessel sailing mainly in the Pacific Ocean.
More information about the ship here.