Page path:
06.05.2010 HYPOX program: Oxygen depletion in t...
06.05.2010 HYPOX program: Oxygen depletion in the seas

HYPOX Project: Scientists take a close look at the effect of oxygen depletion on marine ecosystems
Web log from the German Research Vessel Maria S. Merian (Expedition MSM15/1)
Marine scientists from the
Max Planck Institute for Marine Microbiology
,
AWI,
GKSS
,
MARUM
and
IfM GEOMAR
together with their international partners from Turkey, Italy, Switzerland, France, UK, Ukraine and Chile on board will report on results from their expedition with MERIAN and the submersible
JAGO
to the Black Sea shelf from 12 April to 8 Mai 2010 on www.mpi-bremen.de. Funded by the EU Project
HYPOX,
chief scientist Prof. Antje Boetius and her team will take a close look at oxygen dynamics on the Black Sea shelf. The project HYPOX investigates the effect of low oxygen (hypoxia) on aquatic ecosystems and their functions. Increases in hypoxia due to global change are accompanied by enhanced emission of greenhouse gases, losses in biodiversity, ecosystem functions and services such as fisheries, aquaculture and tourism. Hence, observation of oxygen dynamics in aquatic systems becomes increasingly important for science and society.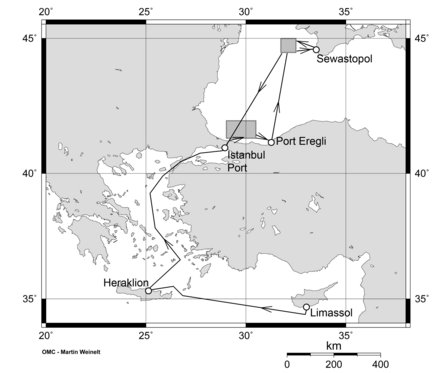 The cruise MSM 15: From the Bosporus to the Crim peninsula.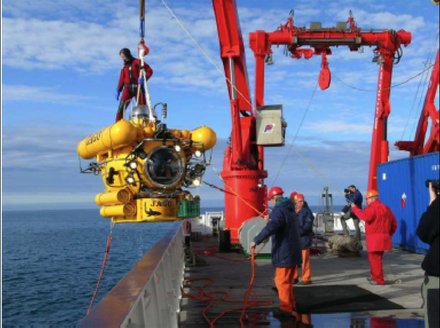 The submersible Jago ( K. Hissmann, IfM Geomar)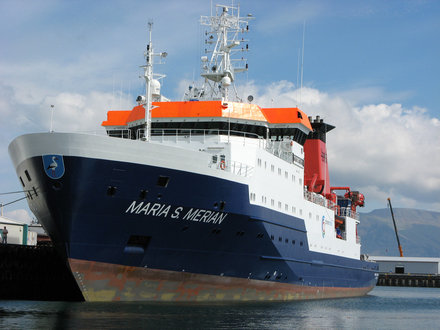 The German research vessel Maria S Merian.
The Black Sea shelf is a natural laboratory for studying the biogeochemical signatures of oxygen depletion in the water column and sedimentary record, as the Black Sea is the largest anoxic water body on Earth. The transition zone between oxygen rich and oxygen depleted water is found at 100-250 m water depth. During the cruise MSM15/1 the focus lies on new technologies for in situ measurements of oxygen dynamics and associated biogeochemical processes in the Black Sea. The first target area is the Turkish shelf and slope impacted by the inflow of oxic Mediterranean water to the anoxic Black Sea. Here, we will carry out in situ water column sampling and sediment coring along a depth transect. The second study site is the Crimean shelf, where surveys using MEDUSA tows as well as deployments of the benthic crawler
MOVE
and the submersible JAGO will be conducted to map the hydrographical conditions, the distribution of the chemocline (transition zone between oxic and sulfidic waters) and the benthic habitat structure. Numerous sensor platforms and sampling tools will provide a 3D image of biogeochemical processes in the hypoxic-anoxic transition zone of the Black Sea as well as on the changing biodiversity. The mission will also contribute to the
EURO ARGO
program by deploying floats and profilers in the western and northern Black Sea.
Stay tuned and read the weblog! 
Manfred Schloesser
Contact
Prof. Dr. Antje Boetius
Heead of the Microbial Habitat Group and
HGF-MPG Group for Deep Sea Ecology and Technology
Telefon:0421 2028 - 860
E-Mail:
[Bitte aktivieren Sie Javascript]
Press spokesman Dr. Manfred Schloesser, Tel: 0421 2028 – 704,
E-Mail:
[Bitte aktivieren Sie Javascript]