Durchflußzytometrie
Die Inhalte dieser Seite sind leider nicht auf Deutsch verfügbar.
The Accuri is our small cell analyser suitable for cell counting of cultures and other samples. It is robust, quick in set up and easy to handle. Sensitivity is sufficient for most marine samples. It has one blue-green laser and four detectors.
The small benchtop flow cytometer can be used for shipboard analysis of picoplankton and for a sorting radioactively-labeled microorganisms for down-stream analysis. Because of its cuvette-based analysis system, it is a very sensitive system. The closed mechanic sort system makes it a safe system to work with radioactive material.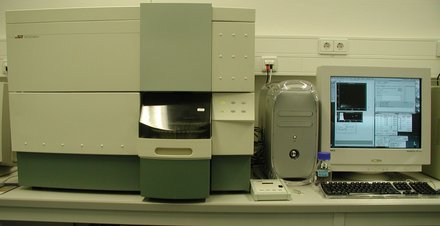 This large research flow cytometer is used for high speed sorting of cell material for e.g. 16S rRNA cloning and genome sequencing. Currently the machine is being technically upgraded and relocated to the Biological Station (BAH) of the Alfred Wegener Institute (AWI) at Helgoland, North Sea. There, at the long-term ecological station, fresh material can be sorted within an hour after sampling for further processing.
The Influx is the next-gen flow sorter for high-speed cell sorting for e.g. genome analyses. It is a stream in air sorter with a high sensitivity forward scatter detector, two lasers (UV and blue) and two octagon detection units.
Since the machine is built on a robust frame on rolls, it is suitable for on-board usage.
The robotic sampler can be used for a wide variety of collection vials from small PCR tubes to 384 multititer plates to microscope slides.
Analysis rates are typically between 1,000 - 10,000 events per second, sort rates depend on the target cells and reach up to 1000 per second. Using optimal settings, the purity is typically >99%.